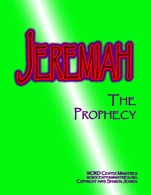 Jeremiah tells Judah that God is going to fulfill what He spoke in Deuteronomy 28—they have disobeyed God so He will be faithful to His Covenant by taking them out of the land of Canaan into captivity. Jeremiah delivered the final news that Babylon would most certainly demolish Jerusalem. But he also delivered two great promises of God:
Yes, Judah would be taken captive to Babylon. But also, Judah would only be there for 70 years. Then she would come back to Jerusalem. 

Jeremiah 25:12; 29:4-10

Yes, God would keep His Covenant promises which would mean that Judah must go into exile to Babylon. But God promises He would make a New Covenant with Israel. One that was different from the old one. One that would cause her to obey God so He would never have to curse her again!  

Jeremiah 31:31-33
The book of Jeremiah was written from Jerusalem where Jeremiah stayed after its siege; however, he sent his writings to Babylon for the exiles to read.
Click Here to Download the Observation Bible Study Guide
Click Here to Read How to Use the Observation Bible Study Guide
Word Center Ministries' audio teachings are available below to both download and stream. Downloading will allow you to keep the files on your computer permanently and permit you to put them on a mp3 player or similar device. Once downloaded you may have to "unpack" or "unzip" the downloaded file after right clicking it. The streaming files are directly below the download. These allow you to listen online without putting the files on your computer but are only available while on this webpage.
Click Here to Download Lesson 1
Or Stream the Files Below
Click Here to Download Lesson 2

Or Stream the Files Below
Click Here to Download Lesson 3
Or Stream the Files Below
Click Here to Download Lesson 4
Or Stream the Files Below
Click Here to Download Lesson 5
Or Stream the Files Below
Click Here to Download Lesson 6
Or Stream the Files Below
Click Here to Download Lesson 7
Or Stream the Files Below
Click Here to Download Lesson 8
Or Stream the Files Below
Click Here to Download Lesson 9
Or Stream the Files Below
Click Here to Download Lesson 10
Or Stream the Files Below
Click Here to Download Lesson 11
Or Stream the Files Below
Click Here to Download Lesson 12
Or Stream the Files Below
Click Here to Download Lesson 13
Or Stream the Files Below
Click Here to Download Lesson 14
Or Stream the Files Below
Click Here to Download Lesson 15
Or Stream the Files Below
Click Here to Download Lesson 16
Or Stream the Files Below
Click Here to Download Lesson 17
Or Stream the Files Below
Click Here to Download Lesson 18
Or Stream the Files Below
Click Here to Download Lesson 19
Or Stream the Files Below
Click Here to Download Lesson 20
Or Stream the Files Below
Click Here to Download Lesson 21
Or Stream the Files Below
Click Here to Download Lesson 22
Or Stream the Files Below
Click Here to Download Lesson 23
Or Stream the Files Below
Click Here to Download Lesson 24
Or Stream the Files Below
Click Here to Download Lesson 25
Or Stream the Files Below
Click Here to Download Lesson 26
Or Stream the Files Below
Click Here to Download Lesson 27
Or Stream the Files Below